Review Detail
3.9
3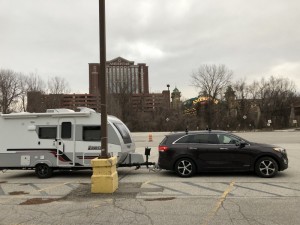 - report from reader Eric P., Nov. 2006

Fairly large casino on the north west corner of Tulsa. Right off exit #240 at I-44 (can't miss it). Lots of slots, tables, etc. It has three stand up bar restaurants, light eating.

RV parking is in the extreme northeast corner of the property. Fully paved with a dump station and fresh water. The price is right: zero. The RV parking area isn't too level. I couldn't level in the marked spaces. The perimeter, next to the curb is reasonably level. Good security in the lot. They seemed to be roving somewhere whenever I looked. Check in with security when you arrive. Friendly people. Easy in and out.


Comments