Review Detail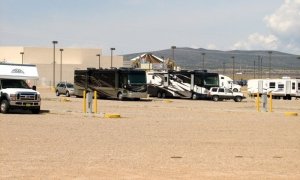 -report from Tony K., June 2007

San Felipe-Hollywood Casino, New Mexico I-25 approx. 20 miles north of Albuquerque Exit 252

Small Casino between Albuquerque and Santa Fe New Mexico. Convenience Store with Fuel. There is a sign stating "RV's welcome- electric available". The lot for RV's is huge and is configured to allow pull through parking and has many electric hookups available. There are many water faucets . Could not confirm if there is RV dumping. There were only 4 RV's overnighting when we visited. There was nothing to indicate that any fee was expected.
Comments