Review Detail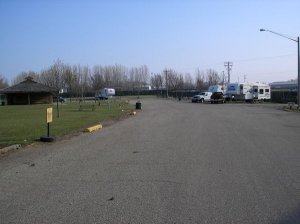 report from Rick & Lucky Lucy, July 15, 2008

The casino has added a new section to their RV park and now offer full service including wi-fi and cable TV. The price is $20 (no tax) but they give you a $5 coupon if you have a player's card (one per day per RV site). The older section is $15 plus $5 coupon ( no cable TV but may be able to pick off wi-fi). The new campground is well laid out with most sites being pull-through. Interior roads are blacktop and the camping sites are concrete, wide and level. Both sections of the RV park are within easy walking distance of the casino.

We enjoyed half price Tuesdays at the buffet (need 15 points on your player's card to be eligible) and the food was pretty decent. Wednesdays are senior day with $5 cash coupon for each of us (same 15 points makes for eligibility). We were here on Lucky Lucy's birthday and they gave her an additional $5. All the cash coupons combined paid for our RV spot for the night.

Dry camping is OK but was much too hot and humid to consider on our visit.
Comments