Review Detail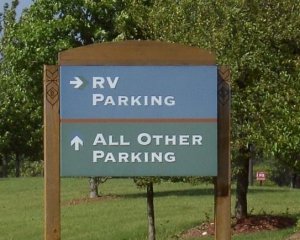 report from Terri S., June 25, 2009
We used your site to find a place to try out our new RV without hook-ups or having to pay. Since the last update for Soaring Eagle in Mt. Pleasant, Michigan is from last year I thought I would update:

Called ahead first and was told by an employee that yes we could park our RV overnight for free in the RV lot. We arrived mid-afternoon on June 20, 2009 and there were only a few RVs there (we were surprised since it was a Saturday). The lot also services the administrative building for the casino but it seems to be closed on the weekends since there weren't really any actual "cars" parked in there.

The main casino building houses the table games and slots and the majority of the restaurants and whatever entertainment venue they have, along with the hotel. From reviewing their website, we were excited to try the freshly sliced, hot roast beef sandwich offered at the cart near the entrance but we were a little disappointed by it. The meat tasted fine but was a bit dry (could have used a dip in au jus) and very skimpy. For $5.95 it wasn't a rip-off but I would have preferred to pay $10 for a "piled high" sandwich. It came with sautéed onions and mushrooms.
We didn't eat anywhere else but I did look the buffet over. The desserts looked pretty good and the dinner selections seemed adequate for $19.95. Of course it doesn't hold a candle to a good Vegas buffet but then again, we're not in Vegas.

The other casino building is much smaller and houses the bingo hall and some additional slot machines. There are shuttles that take you back and forth between the buildings but they're very close together so we walked (you do have to span parking lots so if you don't enjoy walking you can certainly avail yourself of the bus).

Also within walking distance (only 1 small block away) is a Shell gas station and a new little strip center with a pizza parlor and a pharmacy. Didn't try the pizza out but some patrons inside said they enjoyed it. We didn't re-enter either of the 2 casinos since they were both horribly smoky so instead of twiddling our thumbs we decided to continue on MI-20 West (we had come from the east which was mostly residential) and discovered plenty of restaurants (Burger King, McD, and many sit down places) and a Meijer (a little over 3 miles from the casino). We enjoyed a snack at the Culver's located in the Meijer parking lot and then headed back to set up camp.

The night was uneventful - plenty of people were running generators all night but there were so few of us there that we were spaced many parking spots away from one another and noise wasn't an issue. The only blip was the person weed-whacking early the next morning but it was our fault we parked near the grass and they were just doing their job. We moved to the center of the parking lot and weren't troubled any longer. We noticed fellow RVers walking dogs and exchanging pleasantries in the lot. We stretched our legs, used the restrooms (the Bingo/Slot hall was a closer walk from where we parked so we went there), put $2 in a slot machine and headed on our way.

Overall we enjoyed ourselves - it seemed safe, wasn't noisy and the neighbors were respectful. We didn't go for the casinos really (so I can't give a recommendation there) - we went more for an "allowed" boondocking experience and for us it was definitely worth the trip (2.5 hour ride). Would definitely recommend to those who want to try their hand at boondocking and for anyone who is passing through and wants to stop for the night.

Comments