Review Detail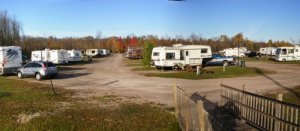 Very RV friendly. Has a nice RV park with full hookups and pull through sites right across the street from the casino. Also allows free overnight parking in the west parking lot (look at signs with arrows).

Two dining option; a sports bar, and a restaurant with both a small buffet and menu service. We ate in the restaurant three times, two buffets and once from the menu. Dinner buffet was $12.95 and was good, average, small buffet. The lunch buffet was $9.99 and was a little below average.

The buffet is small, so there's not much of a selection, but the salad bar had variety and good quality as did the desert section. On the dinner buffet, among other items, there was fried whitefish and it was good. At the lunch buffet I had the sliced pork which was tough and flavorless. Thankfully we got the senior discount for lunch and it only cost us $3.99 each. Note that only water comes with the buffets. If you want coffee or soft drinks that's extra, but only $1.00. We recommend ordering from the menu. I talked with several customers and everyone seemed to love the food from the menu. Everything from sandwiches to steak and fish.

The RV Campground has pull through sites and you can have full hookups for $25 or W/E for $17. Sites seemed large enough with the park 3/4 empty but I expect we'd feel cramped if it had been full. It had rained and the sites were a little muddy. Good solid packed gravel under the RV held our jacks. I suppose it could be called "big rig friendly" to a point. Turning into and out of sites may be a little tight for rigs larger than our 40' MH with toad. Showers seemed newer, we didn't use them. Wi-Fi is available but weak in many spots and a little slow considering the park was 3/4 empty.

The Casino had the normal selection of slots and table games. Video poker was weak by our standards; 7/5 Bonus Poker Progressive at the Dollar level 98.2% at reset. Worse for lower denominations. 6/5 Bonus, 8/5 JOB, 9/6/4 DB. Some comps and cash back. 2x points on senior day. If you're 55+ and a Dollar player it's a little better.

Overall it's a nice place and we will return. It's a little bit upscale. Staff is very hospitable and professional. The location is great, right on the water within 30 minutes of Sault Ste Marie, Canada. Lots to do in the local area; visit the Soo Locks, shipwreck museum, etc. A good spot to base from for a weekend or week-long visit.
Comments