Review Detail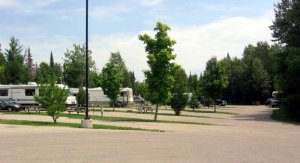 September 2009
(Updated: October 18, 2010)
Yes, I rated it 3's straight up and a 4 overall - the sum is greater than the parts! This casino is very RV friendly with both an RV park and free overnight RV parking. We stayed in the RV park and it's a nice location in the woods behind the casino. Pull through sites with water and electric hookups, 30/50 amp service, no sewer (there's a dump station) bath house, laundry, access to hotel pool. Big rig friendly, but if park is full the parking arrangement may make it tricky to get in and out. Our site was quite a bit off level.
 
Several things stand out at this casino. Number one, if you're a golfer, they have an awesome 18 hole course. Simply beautiful. It made me want to start playing again. They have free live entertainment in the lounge. The night I was there the band was good and it was packed.
 
If you're gambling you can drink, but you need a comp written by the pit. Surprisingly the wine selection by the glass was very good, and you get your choice on a comp, not the typical yucky stuff most casinos pass off as wine. Points are good for comps, and you can use them at the on-site gas station for fuel.

Comments