Review Detail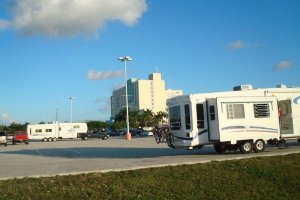 Great Stop on the Way to the Keys
We stopped for one night on the way to Key West and for 2 nights on the way back. The staff at the casino were very nice. No problems getting our security pass to park overnight in the far back parking lot. Of course, there were a few semi-trucks coming and going all night.

We joined their players club and got a free buffet and $30 in slot play. The buffet was "okay", but nothing great. On the return trip, they asked us how many nights we wanted to stay. We went ahead and stayed 2 nights, giving us time to go visit nearby "Shark Alley" in the Everglades. Another person joined their players club and got 50% the buffet and $40 in free slot play. We walked away with almost $100 ahead this time. They also had a special $10 steak and lobster dinner. It was much better than the buffet!

We enjoyed it here and will always stop here when in Southern Florida.
Comments