Review Detail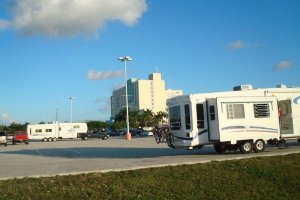 Fine stopover spot in lower Florida
We stayed here on our way to the Florida Keys. Rvs were parked in the back in a nice open area. There were some grassy areas where we could walk the dog. The parking lot is very level and well lighted. We saw frequent security patrols, though none stopped to talk to us in the parking lot. Even so, we went inside to get our permit. That was a short process, and we enjoyed knowing that we were officially sanctioned. The parking lot is an easy walk to the casino.

The casino is small compared to others we've stayed at in the northeast. Mostly slot machines, none of which we particularly liked. The big game seemed to be bingo; table games were few. there was a LOT of smoke to contend with.

We had snacks from the deli and a meal at the 24 hour Cafe Hammock. Both were fine and reasonably priced. The surf and turf at cafe hammock was a particular bargain. Not five star perhaps, but perfectly acceptable. We also had drinks at the hotel bar on the second floor. Perfectly fine.

I had a haircut at the spa; the young lady was not particularly expert. My wife had a pedicure, which also was imperfect.

All told, this is a nice convenient spot: nice, safe, and level.
Comments