Review Detail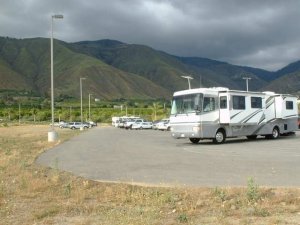 Report from L. Smith, June 2008

We just spent Memorial Day weekend at the Pauma Casino. I am enclosing the picture so you can put it on your website if you wish.

We called first and they said camping was fine. Three rigs traveled to the Pauma Casino on Friday May 23, 2008. When we got there we were told that they only allow two nights. I told them when I called ahead I had told the Security person that we need to be there for three nights. They were very nice and accommodated us.

The area is to the left as you enter the parking lot. There is a long row of parking for RV's and Buses. We parked at the end farthest from the Casino. The lot is almost level and clean. There is security in the parking lot at all times. You are safe there. The area is beautiful.

The casino is small, but clean and the food is consistently good. Pull up their website and you will find all kinds of good deals for senior discounts and a breakfast special every morning. The casino also has a good smoke removal system.

The Pauma is only a short drive from the Pala, Harrah's Rincon and the Valley View Casino's. I recommend you get there early in the day as the parking area fills up in the evening.
Comments