Review Detail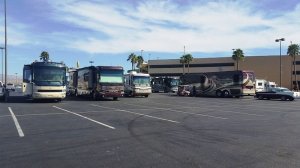 Report from "Wanderin", January 2010

We have visited the Spotlight 29 Casino a couple of times in the last few days. First of all, we wanted to check out the RV parking because we were trying to decide between staying there for a couple of days or moving a few miles down the road to the Fantasy Springs Casino.

The parking for RV's is on a paved parking lot. The area is huge and will accommodate a lot of RVs. There is a sign that limits the dry camping to 24 hours but I would doubt that they enforce that. However, I would recommend you check if you were going to stay longer. Only about 20 or so RV's were parked there ... and that is even a lot.

The exit is off of Dillion Road whether you are coming east or west on I-10. The entrance to the casino is easy and signs guide you to the RV parking lot. The Player's Card accumulates triple points on Thursdays and an extra $10 is credited to your card on that day. We found machines pretty tight but I guess everyone says that when they don't win. We didn't win.

The luncheon buffet is nice and at $9.95 makes for a great place to eat. The food was good and we ate here twice. We didn't check out the dinner buffet because we figured it was a lot more expensive so just ate prior to the 4:00 price increase.
Comments