Review Detail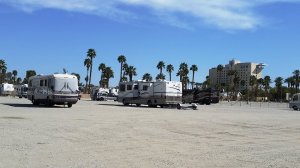 We stayed here in late Jan-early Feb for two weeks. No problem. Nice enough. There's some traffic noise from I-10 which you notice a bit more at night, but it isn't that close so it's not a big problem. There's plenty of room, and unlike what one reviewer found a few months earlier, there was no trash or mess. In fact now they have a couple trash barrels which get emptied each day, although with 25-30 rigs here now they do get filled up.

There's a free dump just a couple miles away (rather amazing nowadays) and you can get water at the Love's truck stop, also a couple miles away. Shopping isn't that far away either.

The casino is nice enough, although there are no drinks stations and the only freebie beverage we noticed was coffee and powdered creamer from a cart. But then we weren't looking for any so maybe we missed something there. They had a great signup promotion: you get your club card, play $20, then you get $40 to play with. Payout seems typical, some good, some bad. If we'd played just the first two days we'd have said it was terrific payout. If we'd played just the last two days we'd say it was bad. In other words, sometimes you eat the b'ar, sometimes...

Lots of room to walk, and behind the casino near the hotel there's a beautiful area with plants and water features, plus some wooden benches which are actually pretty comfortable plus some chairs with nice thick cushions. Also fruit trees, although the remaining grapefruit were just out of reach. :)

We would definitely stay here again.
Comments