Review Detail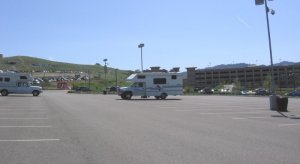 Lots of RVs, good buffet (October 2016)
Still $25 food credit for joining club, almost enough for lunch+dinner buffer (different days). Buffet was good (fincier than some) and would have been worth the asking price.

RV lot B is up the hill by the fire station. Lots of RVs the weekend I was there. Walking to casino required cutting through the parking structure. (alternate was walking in the road) Needed to ask valet to call for shuttle back.

No non-smoking area in casino.
Comments