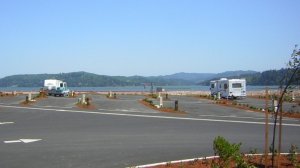 Contact Information
Phone Number:
541-756-8800
Phone Number2:
800-953-4800
Location
Address:
3201 Tremont Avenue
Directions:
Located in Coos Bay on Hwy-101.
RV Parking and Camping Information
Overnight RV Parking Allowed:
Parking Area Description:
Fee for dry parking gives you access to the RV Park Laundry and shower facilities, water fill, sewer dump station and WiFi.
Campground Information
Reservations:
Reservations are accepted. For rates, availability, and to book special packages, please call 800-953-4800, ext. 3.
Amenities:
* Showers and convenient on-site laundry
* Yurt
* Complimentary internet access
* A convenience store
* Access to fitness room
* Outdoor hot tubs and indoor pool
* FREE shuttle that keeps you connected to The Mill's gaming and dining offerings
Internet Access:
Free WiFi
Pet Information:
Pets are allowed
Facilities:
There are 102 level sites, including 60-68-foot pull-throughs, with full hookups and cable TV.
Site Information:
Rates are based on the time of the year and what type of site you get. In September, a basic 40' back-in site with no view of the Bay was $35 a night. In September, 60' or 62' pull-thru site without a Bay view was $45 a night. In September, a 62' pull-thru site with a view of the Bay was $55 a night.
RV park available. Overnight RV Parking is also allowed for $15 with access to some amenities.
Map