Review Detail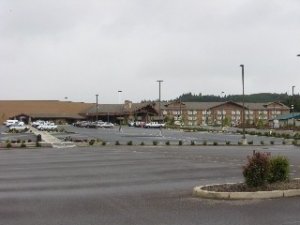 Report from Marlin & Kay, April, 2010

This continues to be a great place to spend a night (or the maximum of 7 nights). There is a large lot in front of the casino and people park there on a nice paved lot. The lot is pretty level. It is just a short walk to the casino. You must register at security and they will give you your pass.

If you wish, you may join the Players Club and receive $10 in slot play; if you partake of the buffet you get another $4. The Sunday buffet consisted of prime rib which was pretty good. This is a nice large casino and they have entertainment.

The casino is located just east of town on highway 126 headed to Eugene. Security patrols and checks to see that you are registered. You would feel safe leaving your RV in the lot while out sightseeing.
Comments