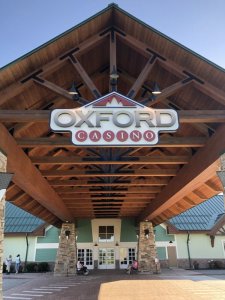 Contact Information
Phone Number:
207-539-6700
RV Parking and Camping Information
Overnight RV Parking Allowed:
Casino Information
Types of Gaming
Slots
Video Poker
Table Games
Map
User reviews
We headed up from NH a couple weeks ago. Drove 2-1/2 hrs and as we headed to our usual parking spot, security was on us before we could let the turbo spool down. We were told no vehicles in the lot that took up more than one parking space and we had to leave. I explained I checked website before we departed and saw no mention of that. Didn't matter, we had to go.

In all fairness they didn't leave us high and dry and took us to another lot about 5 miles down the road. Basically a parking lot behind a warehouse bldg. Since we didn't bring a TOAD (why would we need one) and they had no shuttle service to casino and back, we just bucked up and dry camped between two TT units. Woke up early and high tailed it home.

Next time we will call first to confirm availability, suggest you do the same.
Aug 2017
Ok for a night, which is all you are allowed, need permit from security.
around 800 slots, 25 table games.
Not very good food choices available, but far from the worst.
Overnight is OK
(Updated: October 10, 2013)
(Submitted by Rick & Lucky Lucy) We stayed at the Oxford Casino, near Oxford, Maine, in early October 2013. According to security they permit overnight parking for one night. That's all we needed so took advantage of the offer. There is a section of the parking lot designated for RV parking -- long parking spaces. There was one other motorhome parked there and no other vehicles in these sites. Quiet and level, a good place for an overnight. The casino is within easy walking distance. No full pay VP.