Review Detail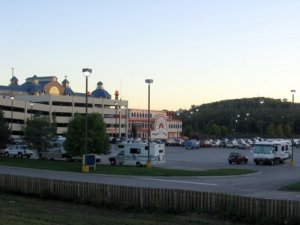 - from reader Karen B, October 2006.

We stayed here for several nights but only played in the casino for a few hours so I can't report on that.

To get to the RV parking make a right after turning into the casino entrance and follow the signs. This takes you to a large parking area with easy access to the riverboat. No specific area marked for RVs.

There's a paved bike trail on the levee behind the parking lot and it's an easy walk to Harrah's riverboat. (didn't check out this casino)

There are many other attractions besides the casinos in Council Bluffs which makes it a very interesting area to visit. Photo is taken from the levee.

Comments