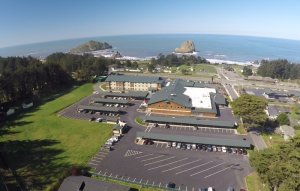 Contact Information
Phone Number:
707-487-7777
Phone Number2:
866-777-7170
Location
Address:
350 North Indian Road
RV Parking and Camping Information
Overnight RV Parking Allowed:
Parking Rules:
Overnight RV parking is OK. Check with security upon your arrival
Casino Information
Liquor Served:
Types of Gaming
Slots
Table Games
Poker Room
Bingo
Overnight RV parking is allowed.
Map
User reviews
The gravel lot behind the Shell station is no longer available. Construction of some sort has just started. There is about six slots at the east end of casino, last drive entrance, but the are slopped fairly good. I found it best to drive around the first entrance then behind the hotel into the lot. Was able to get level enough, front end off ground. Talked to security and the stay limit hasn't changed, three days but if your leaving plenty of money they will happily extend your stay. No registration needed.
There is a small FHU RV park around the corner $20/night. I think it is associated with the casino.

No buffet, restaurant ok but a bit expensive for what it was.
Stayed 7/21/15. Small lot with a water source next to the Lucky 7 fountain by the rv lot. Casino was great with $10 club card. Beach access was really hard to find on foot from the casino.

Casino is very nice. The band has done a great job for RV ers wanting to park overnight. There is a large ( not huge wasteland ) paved area right behind the casino. Well lit, cameras, accessible. The lot is sloped somewhat for the bigger units stalls but plenty of level stalls for smaller units. In addition, behind the Shell gas station / info centre, there are additional stalls (level gravel lot )- some road noise that is minimal on hwy 101 at night ! This lot also is well lit and has security cameras.
Definitely RV overnight friendly.

report from David S, January 2010

Visit January 14th, 2010 A purposely prepared site is now available to RV'ers with clearly marked spaces. The RV area is now to the left of the entrance and not on the front parking lot. An excellent overnight stopover, well lit and secure.
View all user reviews