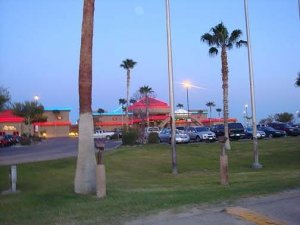 Contact Information
Phone Number:
760-572-7777
Phone Number2:
888-777-4946
Location
Address:
450 Quechan Drive
RV Parking and Camping Information
Overnight RV Parking Allowed:
Parking Rules:
24 hour limit - ENFORCED

November 30, 2007 Thanks to readers Dave and Sandy who reported on our Yahoo! forum that Paradise has started enforcing their length of stay rules. They will give you a 24 hour tow notice!
 
If you visit Paradise, or any other casino, please follow their rules. It only takes a few "problem children" to get the playground closed for everyone. THANKS!

Overnight RV Parking is OK - 24 hour limit enforced
Map
User reviews
Not bad for a night!
We were driving from California to Arizona and just needed somewhere to stop overnight to break up our drive. We pulled in relatively late, after dark maybe around 7-8pm, so we didn't actually use the casino as we went straight to bed to be up early to drive the rest of the way. We also heard in other reviews that it is super smoky inside, so we wanted to avoid that. There are clearly marked signs directing you to RV Parking, which is a gravel lot next to the paved lot. There's plenty of room to maneuver and the lot was basically empty when we were there. It's always helpful when there are signs for RV Parking because then you know you're definitely allowed to be there. They do have it clearly posted that there is a 24 hour limit though, but we weren't even there 12 hours. Nobody bothered us, it was quiet, and the lot was spacious and no trees or anything. If you're going in the summertime, it is Arizona and it would have no shade. I can't comment on the actual casino or food offerings.
March 20, 2010
-from Just Wanderin', March 20, 2010
We stopped by just to check this casino out and, of course, to see if they offered any incentives for free play. Paradise is on the same computer system as the Quechan so if you have registered at Quechan, you won't receive any bonus' from this casino.

There is a huge difference between the two. Paradise Casino is an older casino. It is dark inside and seem cramped. We didn't particularly care for the atmosphere since it was so dreary inside. The casino is difficult to find. Thank goodness for a GPS.

RVs are parked on the side in rows. They have a huge area marked off. There had been some rain in the area and puddles of water and mud was evident.

We can't rate this casino since we only drove through the lot, walked inside and left. We probably wouldn't return but wanted to post a picture.

January 2006
- from reader E. Franks, January 2006.
Yuma has an ordinance against dry camping (can't park at Wal-Mart) but Paradise is outside city limits. They have a large area for RV's and welcome us. Officially it's one night, but there's no formal process and I saw rigs there the whole 3 days we were there