Review Detail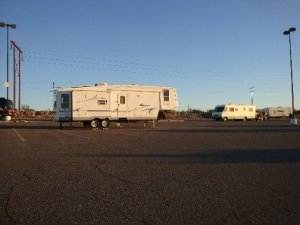 Report from Just Wanderin' February 25, 2010
We visited the casino today to check out the RV parking for future reference and eat at the buffet. We normally love casino buffets. When we went to get a Player's Card we discovered the person taking care of it was gone. She had a sign up saying she would be back at a specific time ... 15 minutes from when we arrived. So, we headed to the buffet first. We certainly weren't going to try any machines without a Player's Card.

On a scale of 1 to 10 we rated the buffet as a 3. This was Mexican night and normally we love Mexican food. The choice of food items was poor. Nothing else was offered .. no potatoes, no vegetables. Even the salad bar was lacking in choices. Would we return? Absolutely not. It's about the worst buffet we've been to at a casino. They do have a menu you can order off of. However, we didn't know that until after we had eaten.

We went back to get our Player's Card after we ate. The casino gives you $10 free play as a new member. However, the $10 isn't posted to your account for about two hours. Evidently, they want you to hang around on your money before you play on their money.

Just as previous folks have indicated there were lots of RVs in the lot. The parking lot is sloped on a slight hill. Thus, most of the RVs had their wheels raised in an effort to level their RV.

Comments