Desert Diamond Casino - Hasan
Hot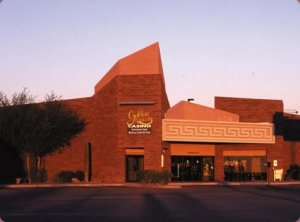 Contact Information
Phone Number:
520-547-4306
Phone Number2:
866-332-9467
Location
Address:
Map Location Is Aproximate
Directions:
Hwy 86, Milepost 55, 1.5 miles east of Why, AZ

From Tucson:
Take Ajo Way/State Highway 86 West about 115 miles to
1 1/2 miles East of Why, Arizona.

From Interstate 8:
Take exit 116 at Gila Bend. Go South on Highway 85 to
1 1/2 miles East of Why, Arizona.
RV Park
NO Overnight RV Parking is OK
Map
User reviews
January 24, 2010
Report from Anonymous, January 24, 2010
There is a newer RV park behind the "GOLDEN HASAN" casino in WHY, AZ. The only place I could find the RV park was using Google maps satellite pictures. The casino just did a remodel, it is small, has about 75 slot machines and I think they were putting in a card table the last time I was there.
 
From the casino website:
Open 7 Days a Week: 10:00 AM to 12:00 AM



Was this review helpful to you?